Heavy 6.1" Serrated Megalodon Tooth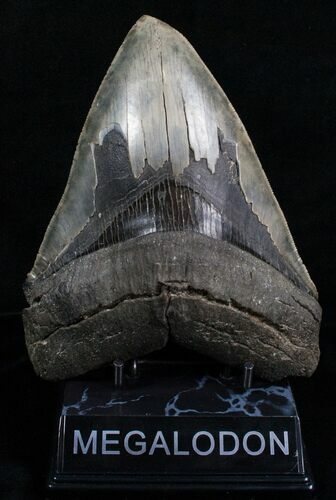 This is a truly monstrous megalodon tooth measuring 6.10 inches long. It's heavily mineralized weighing 18 ounces. Complete teeth over 6 inches are rare finds and this would have come from a very large adult Megalodon, somewhere in the range of 40-50 feet in length. It was collected from by a diver in South Carolina after it weathered out of the Hawthorn Formation making it approximately 4-7 million years old.

While there are a few enamel peels and a chip near the tip of the tooth, nearly all of the serrations are present and still sharp. The enamel is nicely colored with shades of green and brown. Unlike many large teeth on the market this is has NOT been restored and is completely natural. It comes with a custom "MEGALODON" stand to show off how impressive it is.


FORMATION
Hawthorn Formation