Impressive Cyphaspis Trilobite Cluster With Kayserops - Mrakib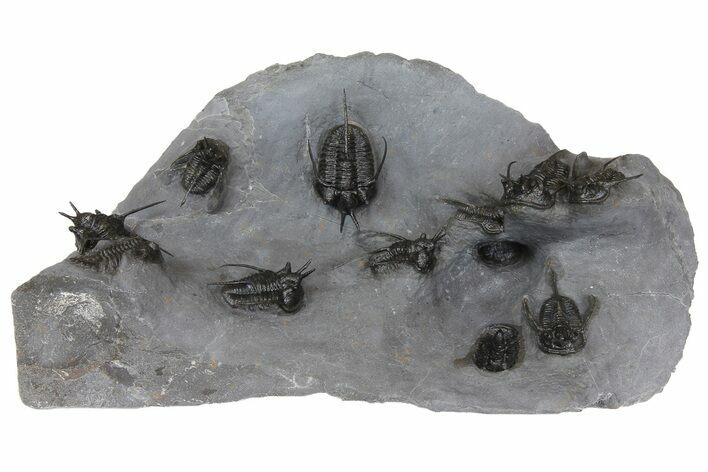 This is a spectacular cluster of trilobites from the Bou Dib Formation near Mrakib, Morocco. There are nice, "devil horned" Cyphaspis walteri, two small Gerastos and an uncommon Kayserops. The preparation on this piece is exquisite with all of the horns and spines on the Cyphaspis prepared free-standing. While you see a lot of mortality plates from this horizon at Mrakib, this is probably the most impressive one that we've had.
This species of Cyphaspis is sometimes referred to as the "Devil Horn" Cyphaspis for obvious reasons. This species was finally formally described in 2014. A link to the paper can be found below.
"Devil horned" Cyphaspis (Trilobita, Otarioninae): examples from the Middle
Devonian of the Ardennes (Belgium), Eifel (Germany) and Ma'der (Morocco)
SPECIES
Cyphaspis walteri, Gerastos sp & Kayserops sp.
AGE
Middle Devonian

FORMATION
Bou Dib Formation