32" Wide Mioplosus & Diplomystus Plate - Cyber Monday Deal!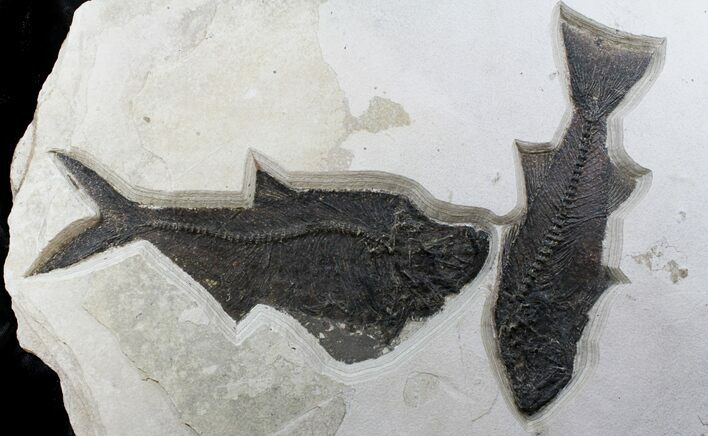 This is an incredibly displayable specimen from the Green River Formation of Wyoming. There is a 15" long Mioplosus labracoides (an uncommon fish) preserved right next to a 17" Diplomystus dentatus. The fish have a beautiful dark preservation, and show quite a bit of relief against the rock. The entire plate is 32 inches wide, 25 inches tall and over an inch thick, probably weighing about 60 lbs.

It was collected from the famous 18 inch layer from Warfield's Quarry near Kemmerer, Wyoming. The layer is renown for it's beautiful, dark colored preservation. The fish split out under the surface of the rock, typically with only slight bumps from the vertebrae visible. They collect this layer at night under spotlights to enhance the contrast and allow the fish to be more easily seen in the rock. They then must be manually prepared to remove the rock from on top of the fish. A plate like this may have taken a week to prepare.

We can back the plate with wood and install mounting hardware allowing it to be easily hung on the wall upon request at no charge. Though, this will add to the shipping time for the specimen.

SPECIES
Mioplosus labracoides & Diplomystus dentatus
LOCATION
Warfield's Quarry, Kemmerer, Wyoming
FORMATION
Green River Formation
SIZE
Plate 32x25", Mioplosus 15", Diplomystus 17"