Large, 18.3" Fossil Stingray (Heliobatis) With Diplomystus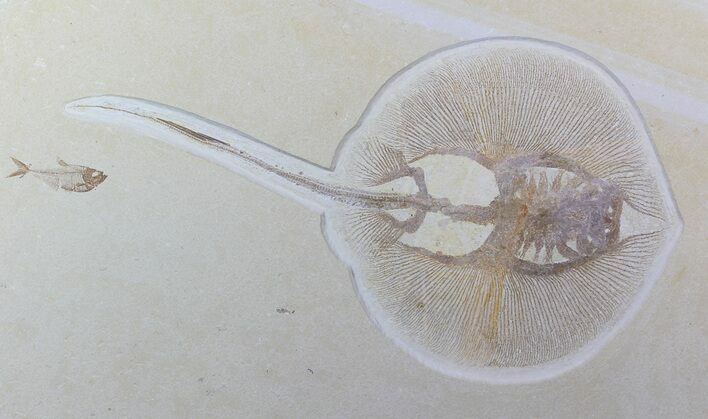 This is a large specimen of a rare Heliobatis radians stingray from the Green River Formation in Wyoming. These rays are one of the more rare
fossils
from the Green River Formation and are highly coveted by collectors for their beauty. This 18.3" specimen is gorgeously preserved and nicely centered on a 24x15" piece of rock.
Because the of fossil ray came out of the rock on a very thin slab in multiple pieces, it was it was inlaid into a thicker slab for stability and to create a more aesthetic piece. There is also a Diplomystus fossil fish present on the slab it was inlaid into. We can add a wall hanger to the piece upon request at no additional cost.
Heliobatis
is an extinct genus of freshwater ray primarily known from the Green River Formation in wyoming. The teeth are triangular and shaped for feeding on small fish, crustaceans, and mollusks.
SPECIES
Heliobatis radians & Diplomystus
LOCATION
Warfield's Quarry, Kemmerer, WY
FORMATION
Green River Formation
SIZE
18.3" long on 24x15" rock