Large, Artistic Ammonite Display Sculpture - Real Fossils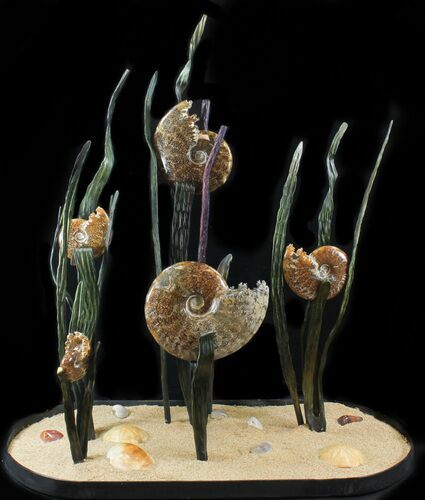 The sculpture is fairly heavy 30-40 lbs so we have including free UPS ground shipping within the US in the price. International shipping will be extra and will be billed after purchase.

This is a large, metal sculpture featuring real ammonite fossils from Madagascar. It makes for a beautiful display with a beach theme to it. It has a sandy base, and metal "coral" arms reaching upwards on which the ammonite fossils sit. The metal base is 24x12" and the highest point is 26" above the base. The largest ammonite fossil is 7" wide.

The polished ammonite fossils were hand picked for their quality and most are of the genus Cleoniceras from the Mahajanga Province of Madagascar. The beautiful, oak-leaf suture pattern which would have lied under the shell in life looks beautiful. There are also several other types of fossils, all from Madagascar mounted into the base including, more ammonites, sand dollars, petrified wood, and clams.
LOCATION
Ambatolafia, Mahajanga Province, Madagascar
SIZE
Base 24x12", 26" tall, largest ammonite 7.1"