Large Cretaceous Ray & Fish Association - Lebanon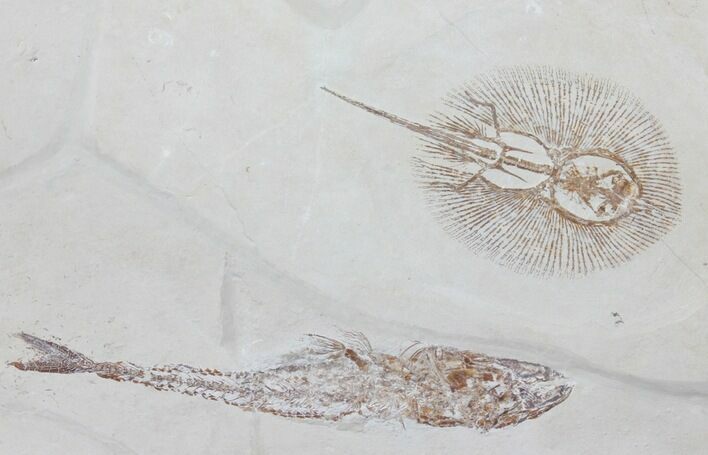 This is an awesome natural association of a rare fossil ray (Cyclobatis major) and large specimen of Eurypholis. It was collected from the Upper Cretaceous limestones near Haqil, Lebanon. The rare is quite large for the species at 5.6" long and nearly perfect, and the Eurypholis is also very large for the species at 8.2" long.

Both specimens have been nicely prepared and the only restoration is some thin sections along the repaired cracks in the matrix. The specimen is NOT a composite and the rock has been backed with fiberglass and resin for stability. An absolutely beautiful display piece.

The Upper Cretaceous, Lebonese lagerstätten yields some of the most exquisitely preserved fossil fish in the world. Over 80 genre are currently described, with many more still awaiting description. These beautiful fossils have been quarried near Byblos, Lebanon for well over a century and include sharks, rays, shrimp, ray-finned fishes and more.

SPECIES
Cyclobatis major & Eurypholis (fish)
LOCATION
Haqil, Byblos, Lebanon
FORMATION
Sannine Formation
SIZE
Ray 5.6", Fish 8.2", Matrix 11.3x8.6"