Museum Quality 27" Gar (Lepisosteus) - Green River Formation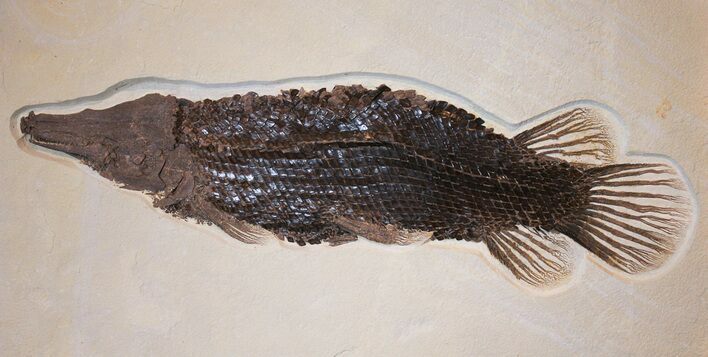 This is a spectacular,
museum quality
gar fossil (Lepisosteus) from the Green River Formation of Wyoming. It was collected this summer at Warfield's Quarry near Kemmerer.
Gars are one of the largest and rarest fish found in the Green River Formation and this one is one of the best specimens I've seen. Lepisosteus was a fierce predator, having a long, narrow mouth full of teeth. They also have large, thick scales which are beautifully preserved in this specimen with a shiny iridescence. This complete specimen is good sized at 27" in length and nicely centered on a 34x15" slab of shale which has been backed with wood for easy mounting.
High end fossil fish collectors shouldn't miss out of this phenomenal specimen, you may not see another better gar from the Green River Formation.
If you wish to purchase this specimen please Contact Us to arrange payment and shipping.
LOCATION
Warfield's Quarry, Kemmerer, WY
FORMATION
Green River Formation
SIZE
27" long on 34x15" rock