Rare, 1.85" Olenellus Trilobite From Rome Shale - Alabama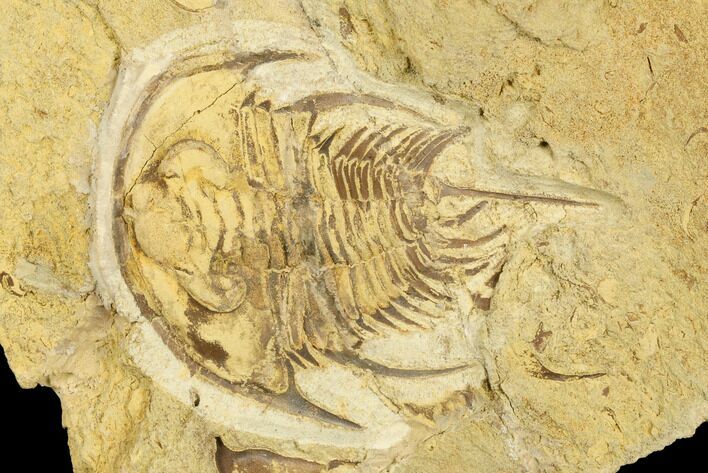 Here is a trilobite that very few of the most serious trilobite collectors have seen, a complete Olenellus from the Rome Formation in Alabama. It measures 1.85" in length including the terminal axial spine. There is one repaired crack running through the middle of the rock and back half of the trilobite.
Prior to this spring only a few complete, Lower Cambrian trilobites had ever been collected from Alabama. The Rome Formation is poorly exposed, weathers very rapidly and complete trilobites are rare.
We took part in an exploratory excavation this spring that involved leasing a property, bringing in an excavator to remove vegetation and about two meters of clay and weathered rock to reach the formation. It took about a week of digging before a trilobite bearing layer was identified, but it became very difficult to follow as the formation is heavily faulted every few feet.
Only about a dozen complete trilobites were found over the next month of digging between several collectors. A small number of these that didn't go into our own collections are being offered for sale on FossilEra.
AGE
Lower Cambrian

LOCATION
Shelby County, Alabama
SIZE
1.85" long (including spine), Rock 3.6x3.1"