19" Articulated, Fossil Oreodont (Miniochoerus) Skeleton - Wyoming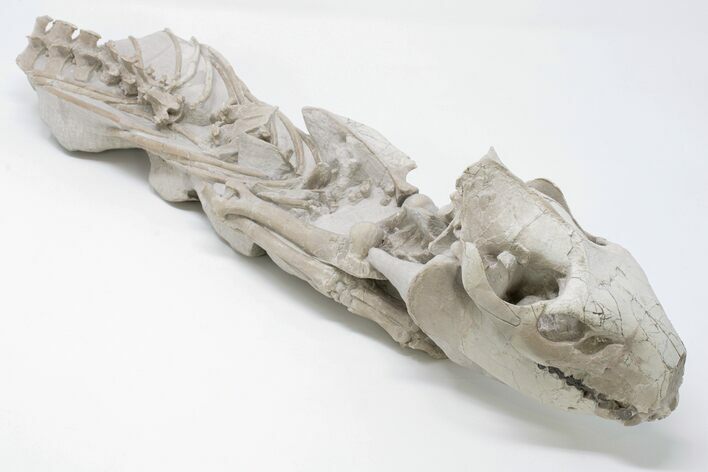 This is a very impressive, articulated skeleton of a small Oreodont (Miniochoerus gracilis) collected from the White River Formation of Converse County, Wyoming. This formation is Oligocene in age, making this fossil roughly 32 million years old! In addition to the exceptional and complete preservation, this unique fossil features the oreodont in burrow position, with front legs/arms tucked underneath its body. This specimen would make for an excellent, jaw dropping display piece!
This skeleton includes the skull, arm bones, vertebrae, the left scapula and ribs, none of which are composite bones. The oreodont specimen ends at the lumbar vertebrae, with the posterior half of the skeleton likely having become disarticulated and naturally displaced.
Measurements:
Entire specimen - 19 x 4.8 x 4.4"
Skull - 5.6 x 3.5 x 3.3"
Another very nice aspect of this fossil is it has VERY LITTLE RESTORATION. This is particularly notable as oreodont fossils are commonly found disarticulated, fragmented and compressed. Restoration includes reconstructed zygomatic arches, a few of the teeth, one edge of the left scapula and small spots of gap fill restoration to the skull. The rock that contains the fossil was collected in multiple pieces, requiring crack repair through several portions of the skeleton.
Miniochoerus was a genus of oreodont that were smaller in size and had undersized canine teeth in comparison to Merycoidodon and Leptauchenia. Oreodonts were an extinct mammal most closely related to camels and pigs. They have no close relatives currently living. They were herbivorous, with short faces and fang-like canine teeth. About the size of a sheep, they roamed the plains of North America in huge numbers during the Oligocene period.
SPECIES
Miniochoerus gracilis
LOCATION
Converse County, Wyoming
FORMATION
White River Formation
SIZE
Entire specimen: 19 x 4.8 x 4.4"