Spectacular Display - Cyphaspis And Hollardops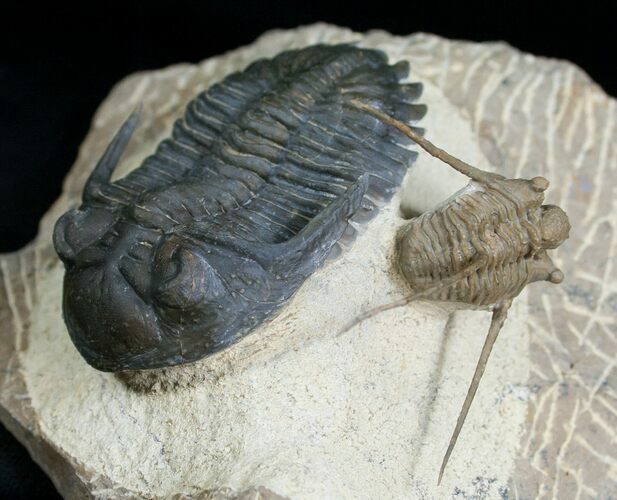 This is a truly spectacular association of two different species of trilobites from Foum Zguid Morocco. There is a 2.05" long Hollardops mesocristata right next to a long-spined Cyphaspis eberhardiei. This specimen has been impeccably prepared, even free-standing all of the spines of the Cyphaspis. There's only about 1-2% shell restoration on the Hollardops in the form or a small patch of shell on it's head.

There have been a few questions about whether this specimen is a composite due to the fact the shell on the two trilobites is different colors. No, it's a natural association which can be verified both using UV light and under microscope. It's actually not that rare to see big variations in shell color even on a single trilobite. For some reason it's even more prevalent at Foum Zguid. I've seen a number of natural associations for this site with both light and dark colored trilobites right next to each other, without any underlying change in the color of the matrix. I'm not aware of what chemical or physical processes would account for this though.
SPECIES
Cyphaspis eberhardiei & Hollardops mesocristata
AGE
Devonian

LOCATION
Foum Zguid, Morocco
SIZE
Hollardops 2.05", Cyphaspsis 1.35" including spines