Two Associated Oreodont Skulls On Rotating Stand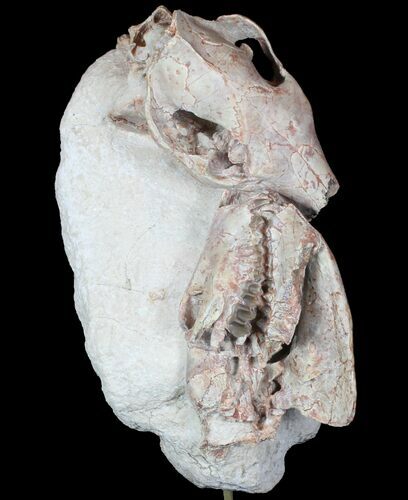 This is a really stunning display piece, featuring two complete Oreodont (Merycoidodon gracilis) skulls, found in close association. The skulls, which both measure just under 5" in length have been wonderfully prepared and brought out in high relief against the rock. The specimen was then mounted on a base, so they can freely rotate 360 degrees. The piece can be easily removed from the base to display it in another orientation on a display stand. Check out the attached video of it rotating.

There is very little restoration on this piece, basically one small patch of erosion at the back of the lower skull which was restored.

Oreodonts (the common name for Merycoidodontoidea) are extinct mammals most closely related to camels and pigs, though they have no close relatives living today. They were herbivorous animals with short faces and fang-like canine teeth. About the size of a sheep, they roamed the plains of North America in huge numbers during the Oligocene period.



SPECIES
Merycoidodon gracilis
LOCATION
Custer County, South Dakota
FORMATION
Brule Formation
SIZE
Skulls 4.9" & 4.7", Entire piece 12" tall on stand