Two Cockerellites (Priscacara) Fossil Fish - Wyoming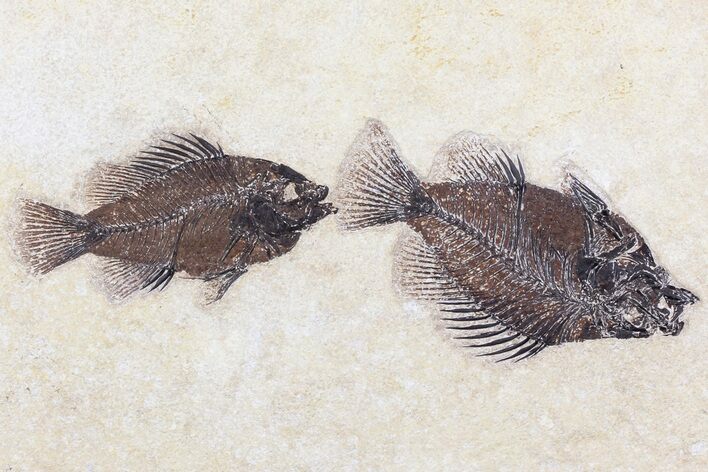 This is a beautiful, pair of associated Cockerellites (Priscacara) liops fossil fish from the Green River Formation of Wyoming. They are both mouth to tail and centered on a solid 13.2x8.6" slab of limestone. The piece comes with a display stand, or we can add a backing and wall hanger to the piece.
Cockerellites liops is a species of extinct temperate bass found in the Eocene aged Green River Formation of Wyoming. It is characterized by a sunfish-like body and its stout dorsal and anal spines. Originally it was placed in the Priscacara genus but was moved to the newly created genus Cockerellites by D. Jordan and H. Hanibal in 1923. There is still some debate among researchers about whether this new genus is valid.

Cockerellites is found in large numbers in mid-lake deposits, representing 5-20% of the fish unearthed (depending on the layer). It's considerably rarer in shoreline deposits, representing 1-2% of the fish found. Because of this, Cockerellites is thought to have been a schooling fish. They are known to attain a maximum size of about six inches, but rarely exceeds five inches in length.

At first glance Cockerellites liops has a very similar appearance to the rarer species, Priscacara. Size can often be used as a differentiator as Cockerellites did not exceed 6 inches while Priscacara serrata is typically found in excess of 6 inches. Cockerellites also had more dorsal and anal fin rays than Priscacara and a much smaller mouth.
50 million years ago, in the Eocene, these fish thrived in Fossil Lake, which was fed by Uinta and Rocky Mountain highlands. The anoxic conditions at the bottom of Fossil Lake slowed bacterial decomposition, prevented scavengers from disturbing corpses, and most interestingly, suffocated creatures that ventured into the oxygen-starved aquatic layer. The result is a miraculous exhibition of Eocene biota in a subtropical aquatic community within sycamore forests teeming with creatures such as freshwater stingrays, dog-sized horses, menacing alligators, early flying bats, and one of the first primates.


SPECIES
Cockerellites (Priscacara) liops
LOCATION
Kemmerer, Wyoming
FORMATION
Green River Formation
SIZE
4.9" & 4.3" on 13.2x8.6" rock