World Class, Red Iridescent Hoploscaphities Ammonite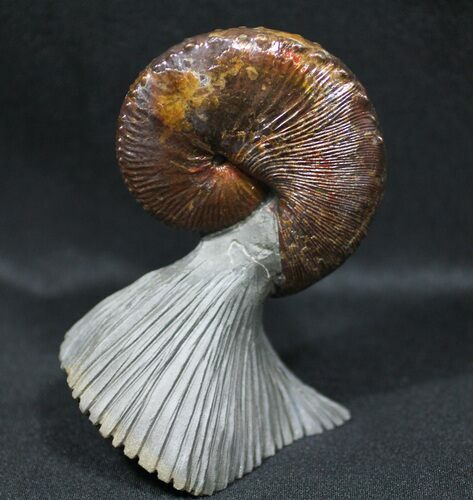 This is a truly world class ammonite specimen from South Dakota. It's one of if not the best specimen of Hoploscaphities comprimus ever collected. It has beautiful red iridescent shell with green flashes, and all of the nodes are intact. Photos just don't do this specimen justice.

What makes this specimen so phenomenal is the preparation work. It was masterfully prepared by Luke Larson of Larson Paleo, taking over 20 hours to complete. The hard concretion around it has been carved into a beautiful base, accented with carved striations. The entire piece is about 5 inches tall and makes for an incredible display. It's not only a spectacular fossil but a true work of art.

These 70 million year old ammonites lived when South Dakota was a shallow inland sea. It was found preserved in a concretion that was split open. It then had to be hand prepared to remove the hard rock surrounding it from the shell, a very time consuming task.
SPECIES
Hoploscaphities comprimus
LOCATION
Dewey County, South Dakota
FORMATION
Fox Hills Formation - Timber Lake Member
SIZE
Ammonite 3.3" wide, 4.9" tall on base