1.25" Amethyst and Calcite Crystal Association - China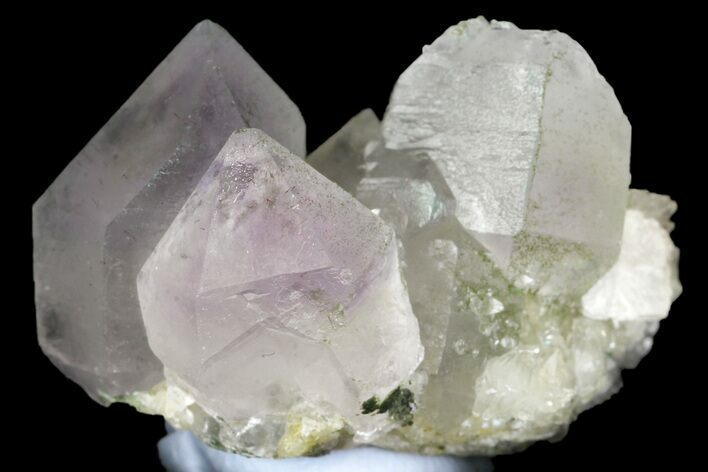 This is a small but beautiful, 1.25" wide amethyst and calcite association that was collected from China. There are small hematite flakes peppered throughout the amethyst crystals. This specimen comes on a piece of mineral tack within an acrylic perky display case.
Amethyst
is a purple variety of quartz (SiO2) and owes its violet color to natural irradiation, iron impurities, and the presence of trace elements, which result in complex crystal lattice substitutions. It's considered a semi-precious gemstone, and just two centuries ago was considered to have a value on par with diamonds, sapphires and rubies. The largest and best known amethyst deposits occur in southern Brazil and Uruguay but many localities around the world produce an amazing variety of amethyst crystals and formations.
Calcite, CaCO3, is a carbonate mineral and the most stable polymorph of calcium carbonate. The other polymorphs are the minerals aragonite and vaterite. Calcite crystals are trigonal-rhombohedral, though actual calcite rhombohedra are rare as natural crystals. However, they show a remarkable variety of habits including acute to obtuse rhombohedra, tabular forms, and prisms. Calcite exhibits several twinning types adding to the variety of observed forms. It may occur as fibrous, granular, lamellar, or compact. Cleavage is usually in three directions parallel to the rhombohedron form.
SPECIES
Quartz var. Amethyst, Hematite & Calcite