18.3" Polished Rocky Butte Picture Jasper Slab - Oregon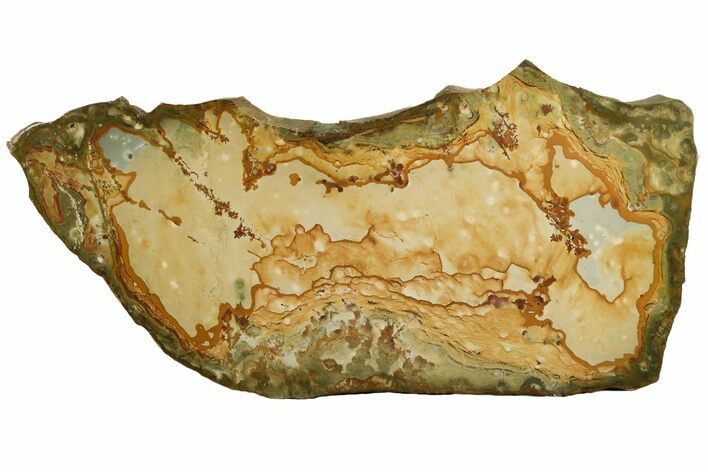 This is a large, 18.3" wide polished slab of Rocky Butte ("wild horse") picture jasper. This colorful jasper was mined in the Owyhee Mountains of Eastern Oregon. The slab and has been cut flat on both sides and polished to a glossy finish on one. Comes with a display stand.
This slab doesn't maintain a uniform thickness across the entire specimen, with the thinnest side measuring .25" and the thickest at 1.3".
Rocky Butte picture jasper is characterized by a field of blue, green or tan interlaced with branches of red-orange and bands from a wide spectrum of colors. This variety of
jasper
is from the Rocky Butte of Portland, Oregon, which was formed by an ancient, cinder cone volcano. These landscapes are highly prized by collectors, lapidarists and the casual observer, as they are visually interesting through and through. No two specimens are alike, but all provide an intriguing, woodland-esque scene for the viewer.
SPECIES
Chalcedony var. Jasper
LOCATION
Rocky Butte, Owyhee Mountains, Oregon
SIZE
18.3 x 8.9", up to 1.3" thick