3" Cubic Pyrite and Quartz Crystals on Rhodochrosite - Peru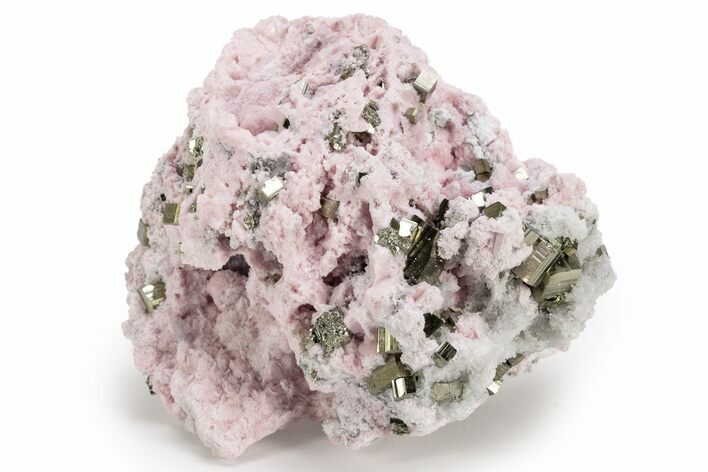 This is a rare mineral association from the Huanzala Mine in Peru. The specimen features cubic pyrite crystals and quartz on a bed of pink rhodochrosite. A small amount of this material was collected from the mine, some of which we were lucky enough to get our hands on. A small amount of fluorite can be found on this specimen within a rhodochrosite pocket.
Comes with an acrylic display stand.
The Huanzala mine in Bolognesi Province, Áncash, Peru is an excellent example of a mine with exceptional quality, variety, and availability. Traditionally a lead-zinc mine, Huanzala holds the record for the most mineral tonnage extracted by a single mine. This is quite the feat and it's easy to see why minerals from this locality are so aggressively mined and collected.
This mine has a multitude of awesome minerals, from sharply terminated quartz, to sparkly
pyrite
, bubbly
aragonite
and dense
galena
. Other common minerals are
realgar
,
orpiment
,
sphalerite
, chalcopyrite,
manganoan calcite
, rhodonite, rhodochrosite, cassiterite,
barite
,
fluorite
and
fluorapatite
, among other less prevalent minerals. Mineral associations from this mine often contain three to four minerals that look phenomenal growing all over one another.
SPECIES
Pyrite, Quartz, Fluorite & Rhodochrosite
LOCATION
Huanzala Mine, Bolognesi, Peru