5.6" Lustrous Axinite-(Fe) and Smoky Quartz Associaition - Russia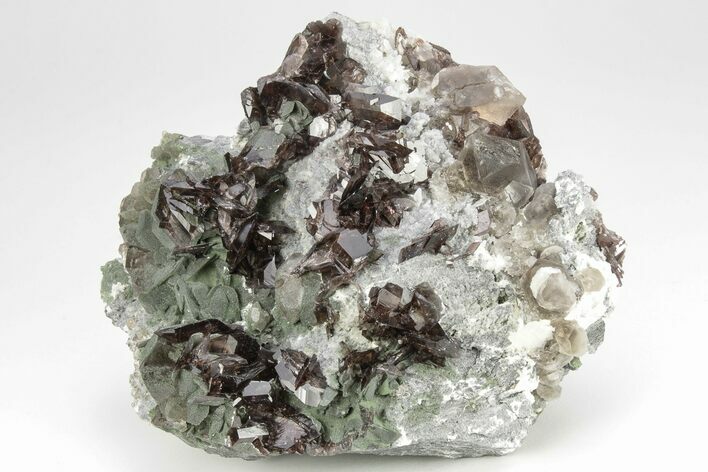 This is a gorgeous cluster of sharp axinite-(Fe) crystals with maroon to orange coloration, and smoky quartz crystals. It was collected from Puiva Mount in Saranpaul, Russia, and is a truly magnificent association from this remote mining district. Individual smoky quartz or axinite crystals are regularly seen on the market, however associations of this size and quality are fairly uncommon.
Portions of the smoky quartz and axinite are encrusted in a thin layer of olive-green chamosite. The axinite crystals have a phenomenal luster that glistens from every angle, with additional axinite crystals which can be found along the periphery of the specimen.
It sits nicely on a flat surface, however it is accompanied by an acrylic display stand to assist with presenation.
Axinite is a mineral belonging to the silicates group, with three possible mineral compositions under the axinite group. The inclusive formula, encompassing all possible mineral member combinations is (Ca,Fe,Mg,Mn)3Al2BSi4O15(OH), where the presence of one listed alkaline or transitional element will effect the structure and colors displayed by the axinite crystal. It typically forms thin, sharp triclinic crystals, with colors ranging anywhere from a light yellow brown, to various shades of blue and green.
SPECIES
Axinite-(Fe), Quartz var. Smoky & Chamosite
LOCATION
Puiva Mount, Saranpaul, Khanty-Mansi Autonomous Okrug, Russia