3.46" Pink Dolomite On Fluorite & Quartz - China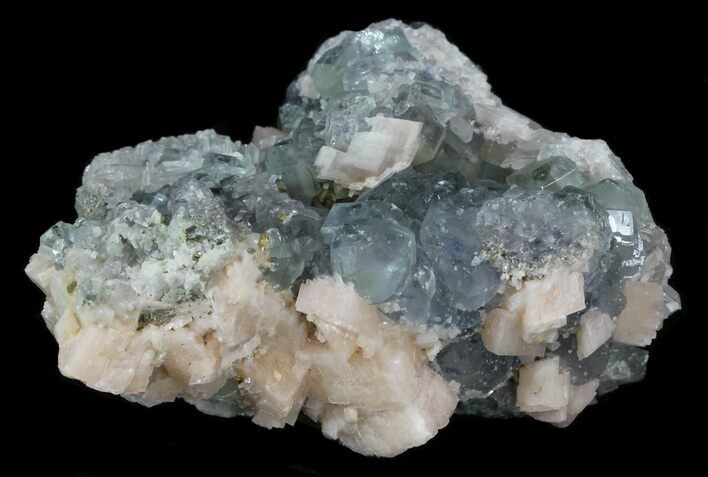 Here is an epic 3.46" matrix of Dolomite, Fluorite, Quartz & Pyrite from Hunan Province, China. Beautifully formed, light green and purple fluorite meet sharp, light pink dolomite, nicely terminated quartz, and tiny, metallic pyrite cubes, to make for a very colorful and unique display specimen.
Dolomite is an anhydrous carbonate mineral composed of calcium magnesium carbonate—CaMg(CO3)2.

The mineral dolomite crystallizes in the trigonal-rhombohedral system. It forms white, tan, gray, or pink crystals. Dolomite is a double carbonate, having an alternating structural arrangement of calcium and magnesium ions. It does not rapidly dissolve in dilute hydrochloric acid as calcite does. Crystal twinning is common.

The mineral dolomite was first described by Carl Linnaeus in 1768 and In 1791, it was described as a rock by the French naturalist and geologist Déodat Gratet de Dolomieu who first recognized the material in buildings of the old city of Rome, and later as samples collected in the mountains known as the Dolomite Alps of northern Italy.
Fluorite
is a halide mineral comprised of calcium and fluorine, CaF2. The word fluorite is from the Latin fluo-, which means "to flow". In 1852 fluorite gave its name to the phenomenon known as fluorescence, or the property of fluorite to glow a different color depending upon the bandwidth of the ultraviolet light it is exposed to. Fluorite occurs commonly in cubic, octahedral and dodecahedral
crystals
in many different colors. These colors range from colorless and completely transparent to yellow, green, blue, purple, pink or black. Purples and greens tend to be the most common colors seen.
Silicon Dioxide, also known as SiO2 or Quartz, is the second most abundant mineral in the Earth's crust. Quartz crystals generally grow in silica-rich, hot watery solutions called hydrothermal environments, at temperatures between 100°C and 450°C, and usually under very high pressure. Quartz veins are formed when open fissures are filled with hot water during the closing stages of mountains forming, and can be hundreds of millions of years old.
The mineral pyrite or iron pyrite is commonly referred to as Fool's Gold because its metallic luster and pale brass-yellow hue give it a superficial resemblance to gold. In the old mining days, pyrite was sometimes mistaken for gold. Pyrite is the most common of the sulfide minerals with the chemical formula FeS2. Pyrite crystals occur in many shapes and habits, including
cubes
of all sizes, penetration twin cubes, pyritohedral clusters and as small druzy crystals that can exhibit a beautiful glistening effect.
SPECIES
Dolomite, Fluorite, Quartz & Pyrite
LOCATION
Hunan Province, China