Lot: .5 to 1.3" Emerald Crystals in Calcite - 70 Pieces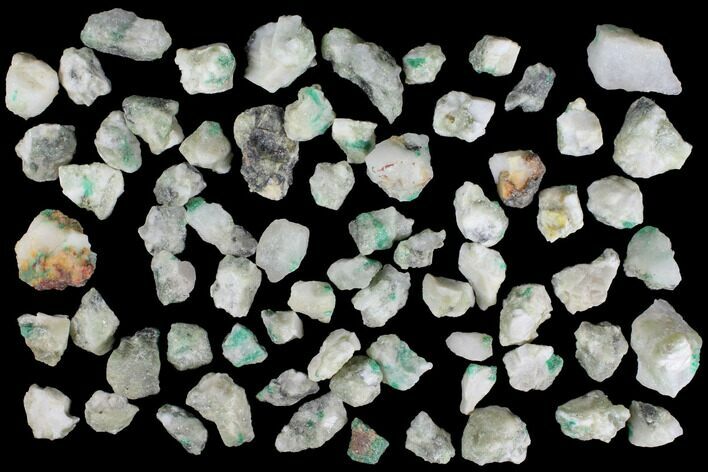 This is a wholesale lot of 70 specimens of beryl/emerald crystals in masses of calcite. They were collected from the Khaltoru Mine in northern Pakistan.
At the wholesale price, each specimen is about $.84 and can easily retail for many times that. These are perfect as gifts, for educational programs, or for resale.
Beryl is a mineral that's composed of beryllium aluminum cyclosilicate, with the chemical formula Be3Al2(SiO3)6. Naturally occurring beryl tends to form hexagonal crystals that can reach several meters in size if given the right conditions. Completely pure beryl will be transparent and colorless, while mineral impurities frequently tint the crystals color in most specimens.

Well known varieties of beryl include aquamarine and emerald, although beryl can also be green, blue, yellow, white and red, depending on the incorporated impurities during formation. Red beryl is known to be the most rare form of beryl found and is currently only known to be found in New Mexico and Utah.
Calcite, CaCO3, is a carbonate mineral and the most stable polymorph of calcium carbonate. The other polymorphs are the minerals aragonite and vaterite. Calcite crystals are trigonal-rhombohedral, though actual calcite rhombohedra are rare as natural crystals. However, they show a remarkable variety of habits including acute to obtuse rhombohedra, tabular forms, and prisms. Calcite exhibits several twinning types adding to the variety of observed forms. It may occur as fibrous, granular, lamellar, or compact. Cleavage is usually in three directions parallel to the rhombohedron form.
SPECIES
Beryl var. Emerald & Calcite
LOCATION
Khaltoru Mine, Northern Pakistan