About Basilosaurs
Basilosaurs are a family of extinct, primitive whales of the early to middle eocene. As whales early ancestors left the land in favor of the sea, it is likely that these were the first fully aquatic whale. Basilosaurs were first
discovered in Alabama
but have since been found on every continent including Antarctica. The name Basilosaurus means King Lizard, a result of the first specimen being mistaken for a large reptile by its discoverer.
They were long bodied organisms that had a tail like a modern whale. That is, they had a fluke that moved up and down. They had a head more like a land animal with a rostral structure (nose) in relative proportion to the rest of the skull, unlike modern whales that have elongated jaws, called a telescoping skull.
The
teeth of Basilosaurs
, unlike modern whales, resembles the teeth of land carnivores more than the teeth of modern whales. This is to say, they had different kinds of teeth in different areas of the jaw, incisors, canines and molars. Modern toothed whales have a conical teeth throughout their jaws.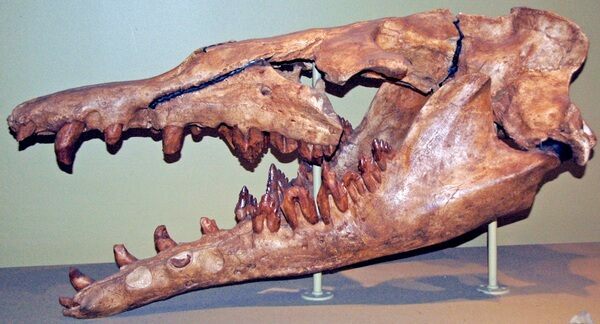 Basilosaurus sp. - fossil whale skull (cast) from the Eocene of Egypt. By James St. John - Creative Commons License
Basilosaurs retained all four legs but their rear legs were rudimentary and their function if any is not clearly understood. The front legs were modified into flippers but retained a functional elbow.
Basilosaurs ranged in size from 13-66 ft (4-20m) and likely would have weighed up to fifteen tons.
Basilosaurs first appear in the late, early eocene about forty one million years ago. They are descended from land dwelling mammals like the amphibious Pakicetus, widely held to be a basal whale and Ambulocetus the transitional organism between land dwelling creatures and whales. They disappear about 33.9 million years ago around the time of the Eocene-Oligocene extinction. This extinction event is attributed to volcanic activity, meteor impact or climate change that lowered the temperature of the oceans.
Basilosaur fossils have been found on every continent including Antarctica. The first fossils were found on the US gulf coast. The most complete skeleton was found in Wadi El Hitan, Valley of the Whales, Egypt. Bartonian aged deposits in the South of England and in New Zealand are also areas that have produced Basilosaur fossils.
RELATED ARTICLES