Texas State Fossil(s) - Petrified Palmwood & Paluxysaurus
Texas is one of the few states that have multiple state fossils by way of having a state stone which is also a fossil, as well as a state dinosaur.
In 2009 the Texas state legislature designated Paluxysaurus jonesi as the official state dinosaur. Paluxysaurus is an Early Cretaceous (110-115 million year old), sauropod dinosaur which is estimated to have been about 60 feet long. It is thought to have been relative of Brachiosaurus & Camarasaurus
Fossils of Paluxysaurus were discovered on a ranch owned by Bill and Decie Jones in Hood County, Texas. This ranch lies near the town of Paluxy as well as the paluxy river, hence the name Paluxysaurus. A 400 square meter quarry in hard sandstone on the ranch produced hundreds of bones from multiple Paluxysaurus. Enough bones were recovered to reconstruct a 60-70 percent complete skeleton which is now on display at the Fort Worth museum. Tracks of Paluxysaurus have also been discovered near Glen Rose, Texas and can be viewed at Dinosaur Valley State Park.
Originally the official state dinosaur was Pleurocoelus but that designation only lasted seven years. The bones of which were originally identified as Pleurocoelus were redescribed as Paluxysaurus jonesi. Texas Governor Rick Perry signed a House Concurrent Resolution changing the name of the state dinosaur to match.
State Stone - Petrified Palmwood
In 1969 petrified palmwood found in eastern Texas was designated as the Texas State Stone. This same petrified palmwood was designated as the
state fossil by the bordering state of Louisiana
.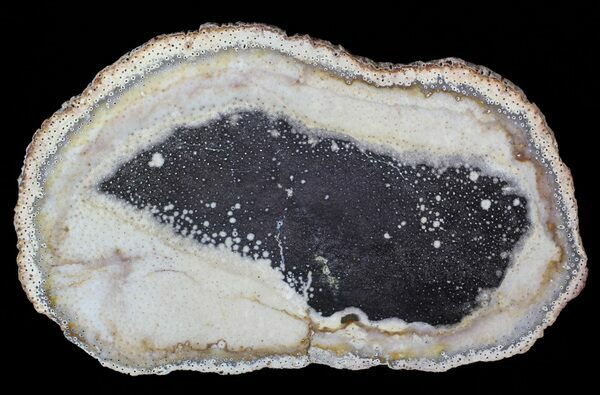 A
polished slab of petrified palmwood
from Texas showing the distinctive vascular structure in cross-section.
30 million years ago, the coast of Texas was much further inland and home groves of palm trees. Fallen palm trees periodically became covered by mineral rich ash from nearby volcanoes. The minerals in the ash seeped into the palm wood, and replaced the organic structures before they had a chance to decay. This petrified the wood in a process called permineralization.
Petrified palmwood is not a true wood, as it's trunk was composed of parenchyma, a fibrous support material that surrounded hollow tubes of the plant's vascular structure. These tubes transported water, nutrients, wastes, and other materials through the plant. When
petrified palm wood
is cut and perpendicular to the trunk these this vascular structure can be seen as closely packed dots.
RELATED ARTICLES