Kambaba Jasper Worry Stones - 1.5" Size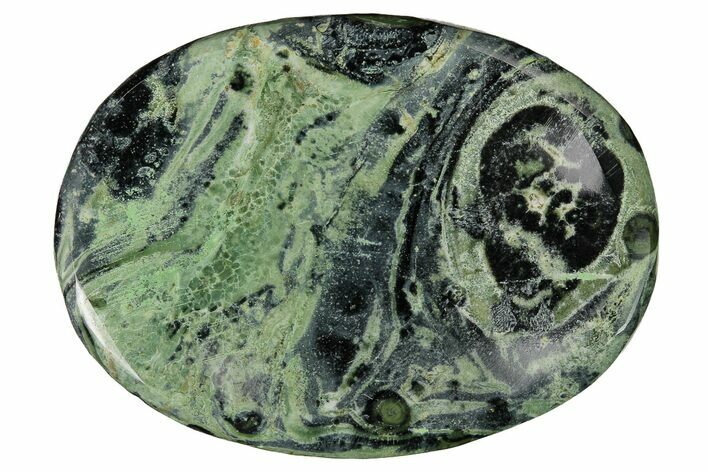 These are small, polished, kambaba jasper worry stones. They average 1.5" wide, but are hand polished so some maybe slightly larger or smaller.
Worry stones
are smooth, polished stones, usually in the shape of an oval, with a thumb-sized indentation. They are often used by people for relaxation or anxiety relief purposes, the same way as some people use a fidget spinner. Typically, worry stones are 1 1/2 to 2" across. They may also be referred to as palm stones, thumb stones, fidget stones, etc.
Kambaba jasper and crocodile jasper are trade names for a greenish rhyolitic (volcanic) rock found in the west-central Bongolava region of Madagascar. It is full of blackish orbs consisting of small Amphibole needles that some people say resemble amphibian eyes, hence the name "crocodile jasper". There is a
common misconception that Kambaba Jasper is a stromatolite
, however this is incorrect as it is volcanic in origin. Despite the misconceptions it is a beautiful decorative stone when polished.
TYPE
Polished Kambaba Jasper Worry Stone
SPECIES
Quartz, Pyroxene & Alkali Feldspar Conglomerate
LOCATION
Tsiroanomandidy, West-Central Bongolava, Madagascar