Petoskey Stone (Fossil Coral) Polishing Kits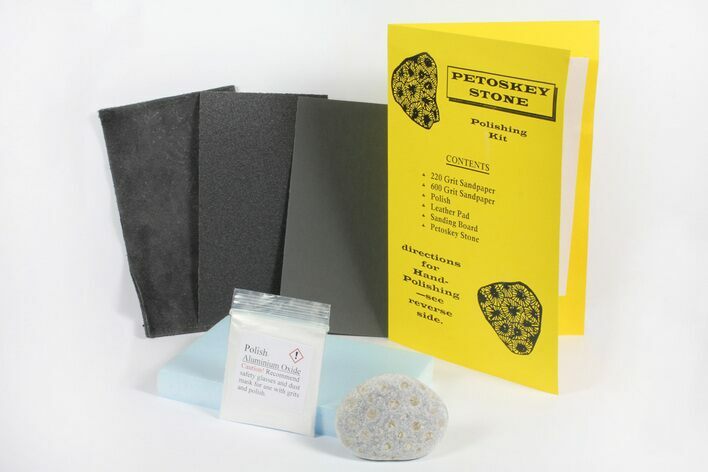 This is a neat addition to our fossil kits! It is a polishing kit for fossil coral (Hexagonaria percarinata) from Michigan. The kit comes with a Petoskey stone that has been left in a rough tumbled state (beach worn) and is accompanied by 220 grit sandpaper, 600 grit sandpaper, polish, a leather pad and a sanding board. Each kit also comes with instructions for proper polishing techniques for these coral specimens. This is a perfect kit for both kids or adults to spark their interest in fossils and stone polishing.
The photos are representative of the specimen(s) you will receive but don't picture the exact coral. The coral varies in exact shape and patterning, though they all range from 1.5 to 2.5" wide.
Known locally as "petoskey stones" this fossil coral can be found along the beaches of Lake Michigan, Lake Huron, as well as in rock quarries from Alpena to Traverse City, Michigan. The species is Hexagonaria percarinata, a type of rugose coral that lived during the Middle Devonian period, about 350 million years ago. Petoskey stones are the state stone of Michigan.
FOSSIL SPECIES
Hexagonaria percarinata
FORMATION
Gravel Point Formation