17.1" Gorgeous Fossil Stingray (Heliobatis) - Wyoming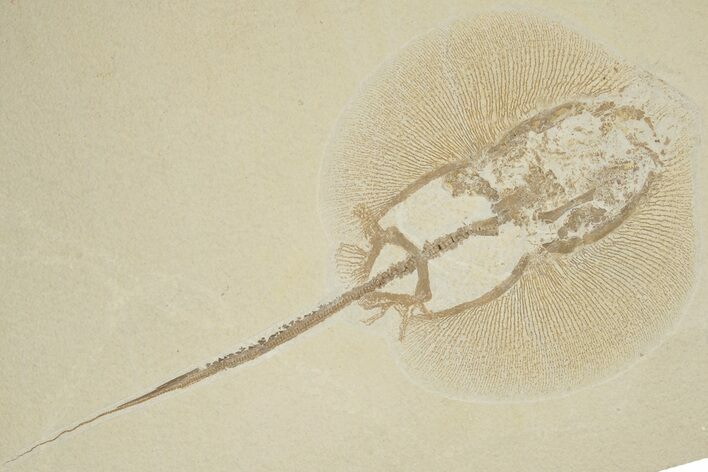 This is a beautiful 17.1" long fossil stingray (Heliobatis radians) from the Green River Formation in Wyoming. These rays are one of the more rare fossil components of the Green River and are highly coveted by collectors for their beauty.
The preservation on this ray is particularly nice, and unlike many rays on the market, it has not been inlaid into the rock. There are spots of restoration through the body and tail where the rock broke during collection. Because the shale it was found on is quite thin, it has been backed with wood for stability. It's accompanied by a metal display stand or we can added wall mounting hardware upon request.
Heliobatis
is an extinct genus of freshwater ray primarily known from the Green River Formation in Wyoming. The teeth are triangular and shaped for feeding on small fish, crustaceans, and mollusks.
50 million years ago, in the Eocene, these fish thrived in Fossil Lake, which was fed by Uinta and Rocky Mountain highlands. The anoxic conditions at the bottom of Fossil Lake slowed bacterial decomposition, prevented scavengers from disturbing corpses, and most interestingly, suffocated creatures that ventured into the oxygen-starved aquatic layer. The result is a miraculous exhibition of Eocene biota in a subtropical aquatic community within sycamore forests teeming with creatures such as freshwater stingrays, dog-sized horses, menacing alligators, early flying bats, and one of the first primates.


SPECIES
Heliobatis radians
FORMATION
Green River Formation
SIZE
17.1" long on 22.9 x 14" rock