2.3" Fossil Pterosaur Jaw Section - Composite Teeth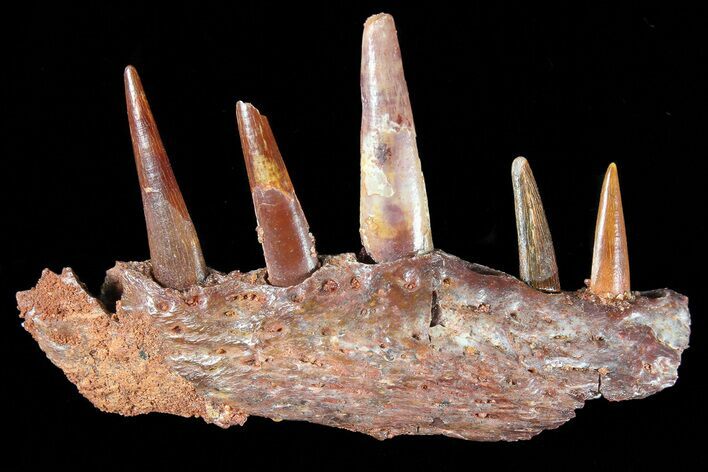 Siroccopteryx moroccensis is a Late Cretaceous pterosaur whose fossil are found in Morocco. It would have been one of the largest pterosaurs with a wingspan of around 12-15 feet (4-5 meters). It is likely that this animal was a specialized glider, and ventured into the sea off the coast of Africa, to capture fishes and other prey that swim near the surface.

The exact genus and taxonomy of this pterosaur is still up for debate. Some researchers consider it a member of the Coloborhynchus genus, some consider Siroccopteryx a seperate genus and yet others have proposed it is closer to the Anhanguera genus. Siroccopteryx appears to be the genus name more widely in use.



Siroccopteryx had a unique dental pattern. The front two teeth were flattened and stuck straight out the front of the jaw. The next three sets of teeth were curved and stuck out to the side of the jaw. The last two pairs of teeth stuck straight out of the jaw. This arrangement was probably to help the Pterosaur to catch the fish it fed on.
SPECIES
Siroccopteryx (Coloborhynchus) moroccensis
LOCATION
Taouz, Kem Kem Basin, Morocco