2.4" Fossil Climbing Fern Leaf - Green River Formation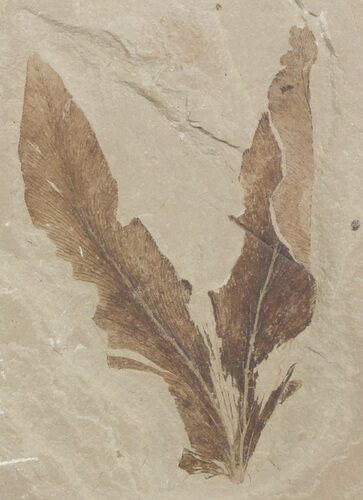 This is a partial fossil leaf of the Eocene aged climbing fern Lygodium kaulfussii. Climbing ferns had vines which wrapped around the trunks of small trees up to support themselves. The brown color of the fossil contrasts well with the shale matrix and the fossil has wonderful detail.
The Green River Formation which outcrops in Wyoming, Utah and Colorado is best known for it's superb preservation of
fossil fish
, but some sites also produce very detailed fossil plants like this one.
SPECIES
Lygodium kaulfussii (Climbing Fern Leaf)
LOCATION
Uintah County, Utah
FORMATION
Green River Formation
SIZE
2.4" long, 3.7"x2.9" matrix