30" Awe-Inspiring, Oregon Petrified Wood (White Pine) Table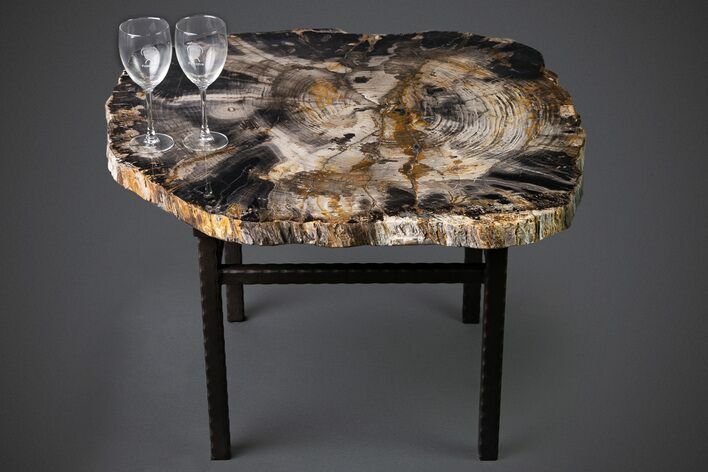 Due to the size and weight of this piece it will be shipped on a pallet or in a crate via freight. Our website can't automatically calculate freight shipping costs so these costs will be calculated and billed after purchase. Please contact us prior to purchase if you need a shipping quote.
This is a 30" wide table made from a polished round of Oregon petrified wood (white pine). The detail on this piece is amazing with all of the tree rings easily visible and the polished work is excellent. The table stands 23" tall on its custom metal display stand.
Petrified wood is the name given to wood that has been turned into stone (fossilized) through the process of permineralization. All of the organic matter becomes replaced by minerals, while much of the original structure such as tree rings in retained. For this to happen the wood needs to be buried in an environment both low in oxygen (preventing decomposition) and with flowing, mineral-laden water. The coloration is due to the various minerals that are present during fossilization. For example red colors are due to iron compounds, greens due to copper, etc.

SPECIES
Pinus sp. (White Pine)
AGE
Miocene

SIZE
Table top 30 x 29", 23" tall on stand, round 1.7" thick