14" Slab of Mississippian Echinoid (Archaeocidaris) Fossils - Missouri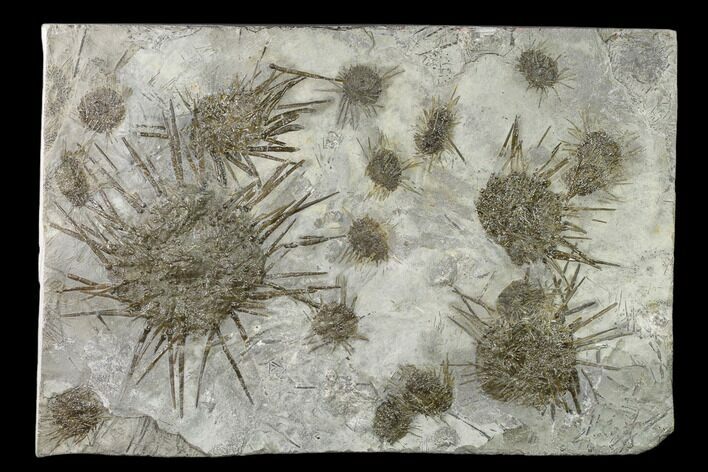 This is a cluster of four large Mississippian aged echinoids (Archaeocidaris wortheni) that preserved in association with atleast eleven echinoids of the species Archaeocidaris illinoisensis. This echinoid association was collected from the St. Louis Limestone in Missouri. The largest of the wortheni urchins on the slab of limestone is 7.1" wide, and the entire slab measures 14 x 9.7".
Upon request we can install a backing and french cleat style wall hanger at no additional charge. Otherwise this specimen will be accompanied by a metal/acrylic (gibson) display stand.
Sea urchins are a type of echinoderm which are still living relatively unchanged today. They live at the bottom of soft ocean floors and have long spines protruding from their central body. They move along the bottom of the ocean using many small feet while feeding on various plant and animal matter.
SPECIES
Archaeocidaris wortheni (4 Largest Echinoids) & Archaeocidaris illinoisensis
AGE
Mississippian

LOCATION
St. Louis, Missouri
FORMATION
St. Louis Limestone
SIZE
Largest urchin 7.1" on 14 x 9.7" rock