9.3" Fossil Oreodont (Merycoidodon) Skull w/ Vertebrae - South Dakota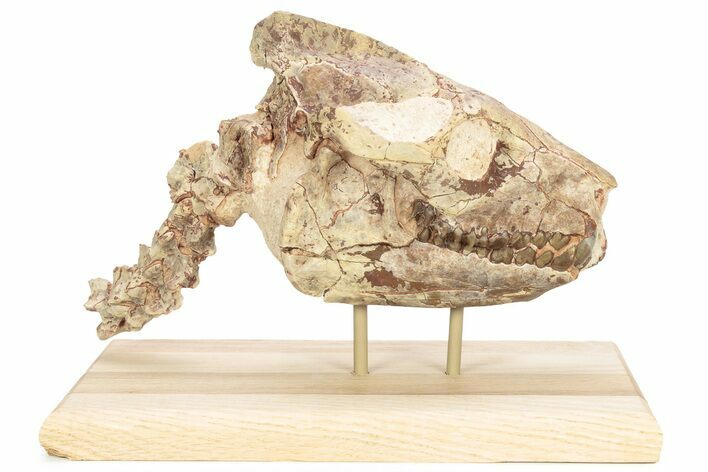 This is an interesting, 9.3" long fossil skull of an Oreodont (Merycoidodon culbertsoni), with naturally associated vertebrae. It was collected from the White River Formation in Pennington County, South Dakota and would be approximately 30-35 million years old. The preservation of the majority of this skull is phenomenal considering most of these skulls are found heavily fragmented and compressed. This specimen features excellent three dimensional preservation with very little compression or disarticulation. The dark bone preservation and red sutures of this skull make for a gorgeous specimen.
The specimen is accompanied by the pictured wood display base and the skull sits snuggly atop two pegs, creating this wonderful display.
The majority of the molars and premolars are intact and in their natural positions within the skull. None of the teeth have been restored or composited. Spots of restoration can be found through the left and right zygomatic arches, along with some restoration to the sagittal crest.
Following prep, a false-rock material was placed into the open cavities where rock had been removed (beneath zygomatic arches, behind incisors of lower jaw, within eye sockets, and between left and right sides of the mandible).
Measurements:
Entire specimen - 9.3 x 5.7 x 3.8"
Just skull - 6.8 x 5 x 3.8"
Height on base - 7.1" tall
Oreodonts are an extinct mammal most closely related to camels and pigs. They have no close relatives living today. They were herbivorous, with short faces and fang-like canine teeth. About the size of a sheep, they roamed the plains of North America in huge numbers during the Oligocene period.
SPECIES
Merycoidodon culbertsoni
LOCATION
Pennington County, South Dakota
FORMATION
White River Formation
SIZE
Entire Specimen: 9.3 x 5.7 x 3.8"