9.7" Cretaceous Fossil Crocodilian (Borealosuchus) Jaw - South Dakota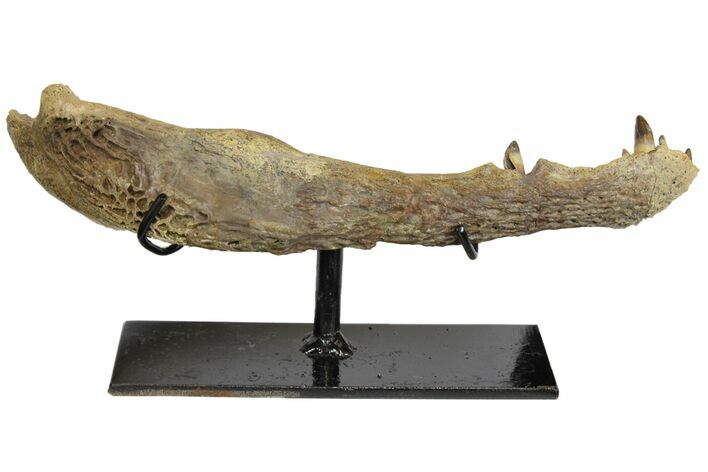 This is a nicely preserved fossil crocodilian (Borealosuchus sternbergii) jaw from the 66 million year old Hell Creek Formation of Harding County, South Dakota. It was found in multiple pieces, requiring crack repair and some restoration in spots. The most significant restoration is at the middle of the jaw where a large section of bone wasn't recovered. The largest teeth appear to be from this jaw section, however each one has a repaired crack through it and required remounting. The smallest teeth likely aren't composite, though they have been remounted to the jaw as well.
This specimen comes with a custom metal display stand.
Borealosuchus was a mid-sized crocodylian that lived from the Late Cretaceous to Eocene in North America.
Because of its age and sedimentary composition, the Hell Creek Formation has become one of the most paleontologically studied areas in the world. 158 genera of animals and 64 genera of plants are known from the formation and new discoveries are made frequently. In addition to Tyrannosaurs, Ceratopsids, and Hadrosaurs, the formation has yielded remains of amphibians, reptiles, lizards, snakes and turtles, fish and sharks, avian and non-avian dinosaurs, and mammals. The Hell Creek Formation gives the most complete understanding of the environment just before the Cretaceous-Paleogene extinction.
SPECIES
Borealosuchus sternbergii
LOCATION
Harding County, South Dakota
FORMATION
Hell Creek Formation