Aesthetic, Double Elrathia Trilobite Plate - Utah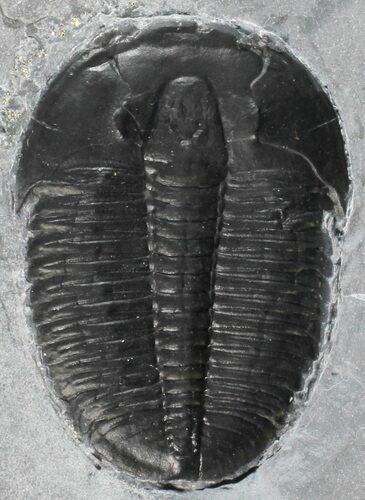 This is a very displayable plate with a pair of well preserved Elrathia kingii trilobites from the Wheeler Shale of Utah. The larger specimen is 1.25" long and the smaller .7" long and they were cleaned using air abrasives under microscope. The entire piece of shale measures 7.8 x 5.6" and there is a little bit of pyrite around the larger specimen.
Comes with an acrylic display stand.
Trilobites
were a very diverse group of extinct marine arthropods. They first appeared in the fossil record in the Early Cambrian (521 million years ago) and went extinct during the Permian mass extinction (250 million years ago). They were one of the most successful of the early animals on our planet with over 25k currently described species, filling nearly every evolutionary niche. Due in large part to a hard exoskeleton (shell), they left an excellent fossil record.
LOCATION
U-Dig Quarry, House Range, Utah
SIZE
Trilobites, 1.25" & .7" on 7.8x6.5" shale