Large Allosaurus Jimmadsoni Tooth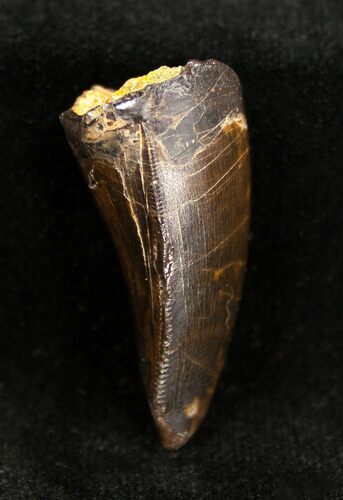 Here is a large 1.36 inch long tooth from the terrifying Jurassic predator Allosaurus. Allosaurus teeth rarely make their way onto the market because there are far fewer commercial quarries operating in the Morrison Formation than Cretaceous aged formations such as Hell Creek. They are far less available than T-Rex teeth.
This tooth was collected at the world famous
Dana Quarry
of Wyoming. Many of the worlds top museums have complete dinosaurs on display collected at this quarry. The location which this tooth was found further adds to it's collect-ability.
The Dana Quarry is unique both both the high quality of preservation but it's located in the lower portion of the Morrison Formation. The species of Allosaurus found here is different than the fragilis found in other parts of the formation and at this point is unofficially called "jimmadsoni".
The tooth is good sized for an allosaurus tooth, has great thick enamel and is nicely serrated.
SPECIES
Allosaurus "jimmadsoni"
LOCATION
Dana Quarry, Bighorn Mountains, Wyoming
FORMATION
Morrison Formation