1.01 Inch Allosaurus Tooth - Dana Quarry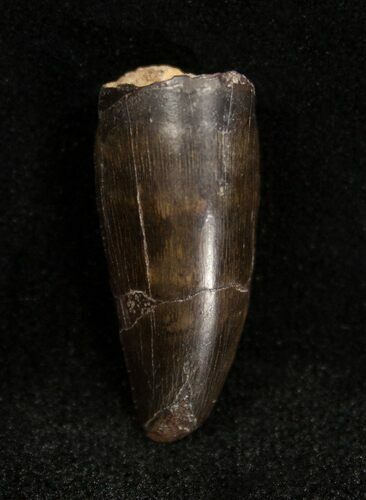 Here is a type of theropod dinosaur tooth that rarely come up for sale. It is from the massive Jurassic predator Allosaurus "jimmadsoni". Jurassic dinosaur teeth are highly collectable because there are far fewer of them on the market that Cretaceous aged material. This is mainly due to the limited number of commercial quarries operating in the Morrison Formation.
This tooth from the world famous
Dana Quarry
in Wyoming which has produced complete dinosaurs skeletons on display at many of the worlds top museums. The Dana Quarry is even more unique in that it is located in the lower portion of the Morrison Formation. The species of Allosaurus found here is different from the fragilis, found in the upper part of the formation, unofficially named Allosaurus jimmadsoni.
The tooth has very nice dark enamel and only a single repair to the tooth, there is some natural feeding damage to the tip.
SPECIES
Allosaurus "jimmadsoni"
LOCATION
Dana Quarry, Bighorn Mountains, Wyoming
FORMATION
Morrison Formation