Beautifully Colored Acadoparadoxides Levisettii - 4.2"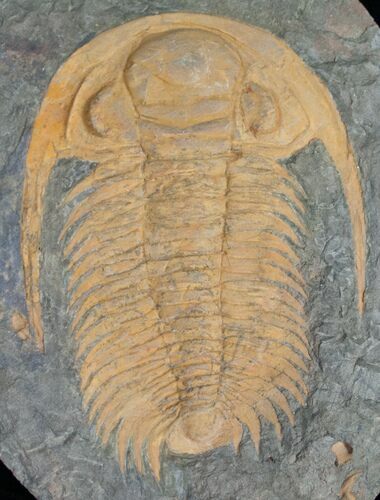 This is an absolutely gorgeous specimen of a very recently described species Acadoparadoxides levisettii (Geyer & Vincent, 2014). It comes from the basal layers of the Jbel Wawrmast Formation in Southern Morocco. It has a natural, bright orange coloration due to the oxidization of iron pyrite. It's 4.2" long which is about average for the species but has extremely nice preservation with good inflation. It's rare to find examples this nice.

No restoration on this specimen unlike so many of the similar species which are heavily faked and reconstructed.
SPECIES
Acadoparadoxides levisettii (Geyer & Vincent, 2014)
AGE
Middle Cambrian

FORMATION
Jbel Wawrmast Formation