Bizarre Walliserops Trilobite - 3.25"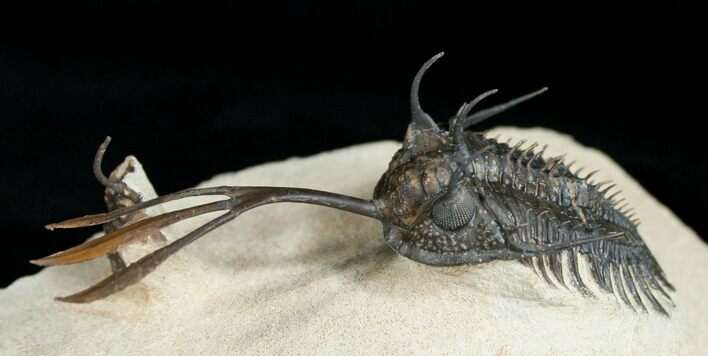 This is one of the weirdest, and most visually stunning species of trilobite, Walliserops trifurcatus. Unlike many on the market the trident and all of the free standing spines are real. They were painstakingly prepared free of the solid limestone using air abrasives under microscope and a lot of patience. This piece took 40-50 hours of manual labor to prepare. Laying next to the specimen, is part of the head of a Psychopyge trilobite.

Note: The trident on this specimen is a composite from another partial specimen. During preparation it was discovered the the original "trident" had two missing prongs. They had been broken prior to fossilization. The only restoration on this specimen beyond the composite fork is a few touchups of minor air scribe dings from preparation. All of the spines are real.

The last image in the photo series is this specimen as it was found, prior to preparation.

SPECIES
Walliserops trifurcatus
AGE
Devonian

LOCATION
Foum Zguid, Morocco
SIZE
3.25" long including fork