Devil Horned Cyphaspis Trilobite - Great Spines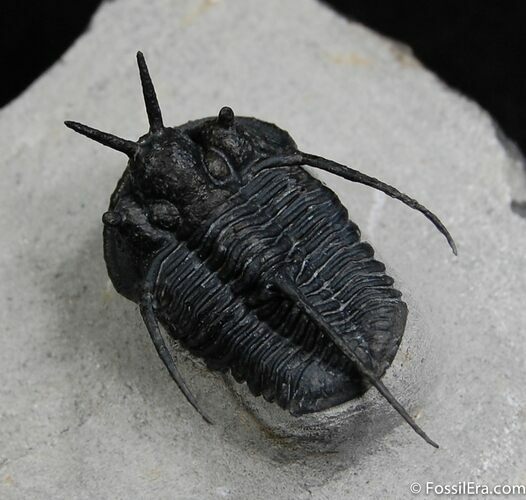 Here is a great Cyphaspis sp. trilobite often referred to as the "Devil Horn" Cyphaspis. You can easily see how these trilobites got their demonic nickname. The preparation work on this trilobite is outstanding, and it's displayed on a natural "pedestal" of matrix. Check out the surface detail and the free standing spines in the photos.

The spines are real and appear unbroken during the preparation process. It took many hours of painstaking work under high magnification to expose this trilobite using air abrasives. There is only very minor restoration to repair the crack through it's body from when it was found in cross section, and a minor touchup or a airscribe ding on it's head.

This is a very aesthetic (and real) example of this spiny Moroccan Otarionidae.
AGE
Devonian

SIZE
1.25" long not including spines