Fossil Crusher Fish (Coccodus) With 6 Shrimp & Worm - Cretaceous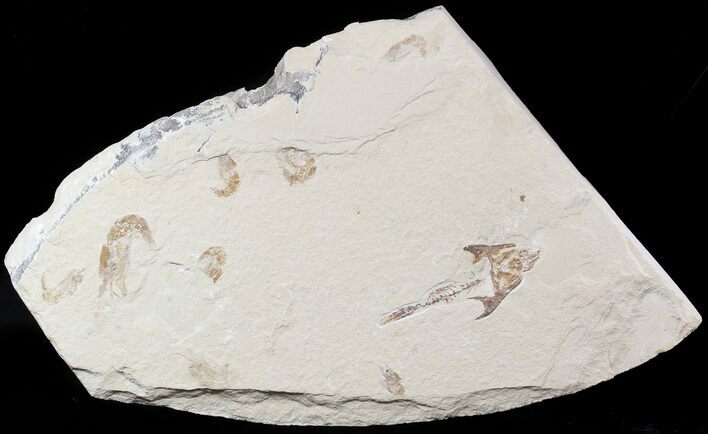 This is an interesting fossil association of a 4.1" long crusher fish (Coccodus insignis) along with six fossil shrimp (Carpopenaeus callirostris) and a soft-bodied worm fossil. It was quarried from the Upper Cretaceous, marine deposits near Hjoula, Lebanon. The entire unbroken piece of limestone is 14.6" wide and about 3/4" thick. Comes with a display stand.

The Upper Cretaceous, Lebonese lagerstätten yields some of the most exquisitely preserved fossil fish in the world. Over 80 genre are currently described, with many more still awaiting description. These beautiful fossils have been quarried near Byblos, Lebanon for well over a century and include sharks, rays, shrimp, ray-finned fishes and more.

I've including some photos of the quarry in the photo set.
SPECIES
Coccodus insignis & Carpopenaeus callirostris
LOCATION
Hjoula, Byblos, Lebanon
FORMATION
Sannine Formation
SIZE
Fish 3.9", Matrix 14.6x10"