This Specimen has been sold.
Huge Enrolled Pedinopariops Trilobite - Mrakib, Morocco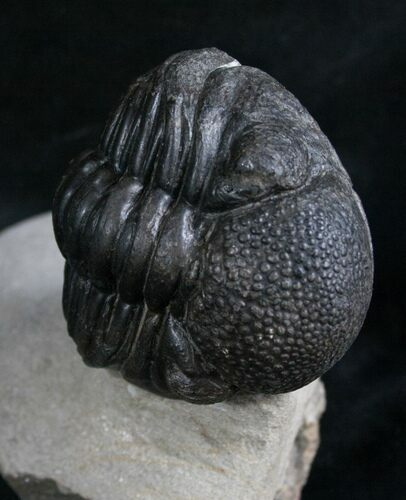 This is a gorgeously preserved, enrolled Phacopid trilobite from Mrakib, Morocco. The large phacopid trilobites from this location have outstanding preservation very reminiscent of the Eldredgeops from the Silica Shale in Ohio. This one is huge, at 2.2" wide and would be around 4 inches long if it was outstretched. These phacopids from Mrakib are a relatively new find, and I haven't seen them offered by many other dealers.

The compound eyes in this specimen show amazing detail and all of the pustules on the head are well preserved. There is some shell restoration on the right cheek and right side of the body.
SPECIES
Pedinopariops vagabundus
AGE
Middle Devonian

SIZE
2.2" wide, over 4" long