Incredible Ceratarges Aries - Very Rare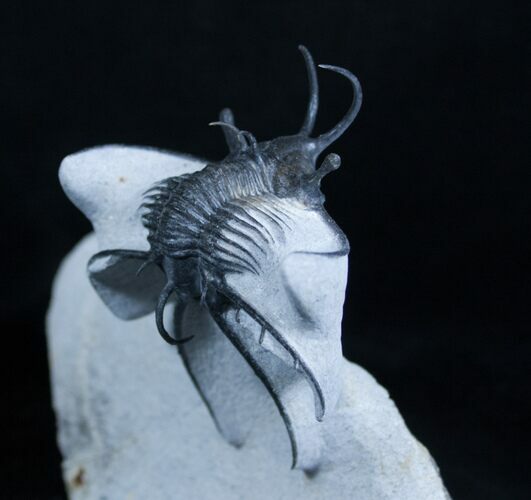 This is an incredible specimen of the very alien looking trilobite Ceratarges. While I've seen lots of trilobites of the genus Ceratarges I have never previously seen one of this species. It appears to a species recently described in 2011, Ceratarges aries.
NEW SPECIES OF THE LICHID TRILOBITE CERATARGES FROM THE MIDDLE DEVONIAN IN MOROCCO
Not only is this specimen incredibly spiny but it is quite large at around 3 inches in length if you include the spines. The preparation is excellent. There is some repair and restoration on the eye stalks and spines on the head. They were broken during the original shipment of the specimen to me and had to be repaired, but it was done extremely well and is not noticeable. I've been told this species is extremely rare, which is backed up by the fact I have not seen another one myself. The quarry lies right on the border with Algeria and is no longer being dug because of political/border issues.
AGE
Devonian

LOCATION
Tazarine, Morocco
FORMATION
El Otfal Formation
SIZE
Around 3" including spines