1.4" Theropod (Raptor) Vertebrae - Montana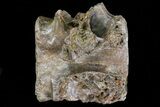 This is a well preserved vertebrae of a small theropod dinosaur, commonly referred to as a raptor. It's 1.4" wide and comes from the Hell Creek Formation of Powder River County, Montana. The proximal portions of the vertebral processes remained intact, however they broke off about 1/8" from the vertebral body.

Since the processes didn't remain intact, it's difficult to come to a conclusion regarding the exact species that this vertebrae came from.
SPECIES
Unidentified Theropod (Raptor)
LOCATION
Powder River County, Montana
FORMATION
Hell Creek Formation
SIZE
1.4" wide, body is 1.2" long