Spectacular Flying Zlichovaspis Trilobite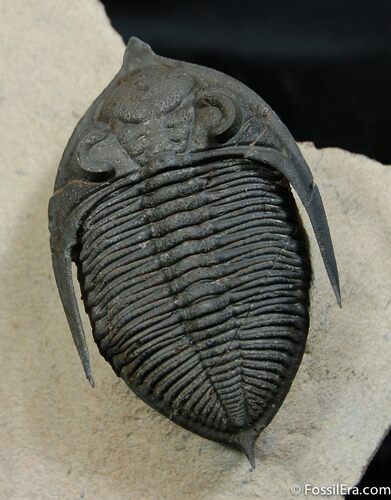 Here is a killer Zlichovaspis rugosa trilobite that has been expertly prepared in a "flying" pose. The prep work on this piece is FANTASTIC with all the microscopic surface details on the exoskeleton present. All of the dozens facets in the segmented eyes can easily be seen.

The ONLY restoration work performed is some minor touchup of surface scratches that occurred during preparation. I did these touchups myself. If you look closely at the pictures you can see the two parallel, hairline cracks running through the trilobite where the limestone had been broken during collecting and the trilobite found in cross section.

It is simply a fabulous specimen of this beautiful Dalmanitidae.


SPECIES
Zlichovaspis rugosa
LOCATION
Atchana, Morocco
FORMATION
Lhandar Formation