Two Rooted Mosasaur (Prognathodon) Teeth - Top Quality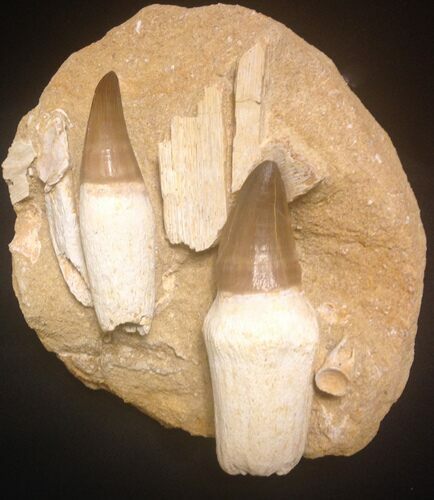 This is an beautifully prepared specimen containing two rooted Mosasaur teeth associated together along with some jaw fragments. Real, rooted Mosasaur teeth are not common finds and nearly all of the "rooted teeth" that are being sold have fake roots. This piece has absolutely NO RESTORATION OR COMPOSITING. The preparation on this piece is outstanding with both the teeth brought out in high relief from the matrix. It displays nicely on the included display stand.
This specimen comes from the Late Cretaceous phosphate deposits near Khouribga, Morocco. Mosasaur
fossils
are frequently found as a by product of the massive phosphate mining operations in the area. There are 3 or 4 different Mosasaurs found in these deposits with Prognathodon being the largest.
Note:
While we typically ship orders within 1-2 business days but this particular specimen can't be shipped until after Tuesday, Sept 22nd
LOCATION
Khouribga, Morocco
FORMATION
Phosphate Deposits
SIZE
Larger Tooth 3.7", Matrix 6x5.5"