Lot - 24 Assorted Trilobite Fossils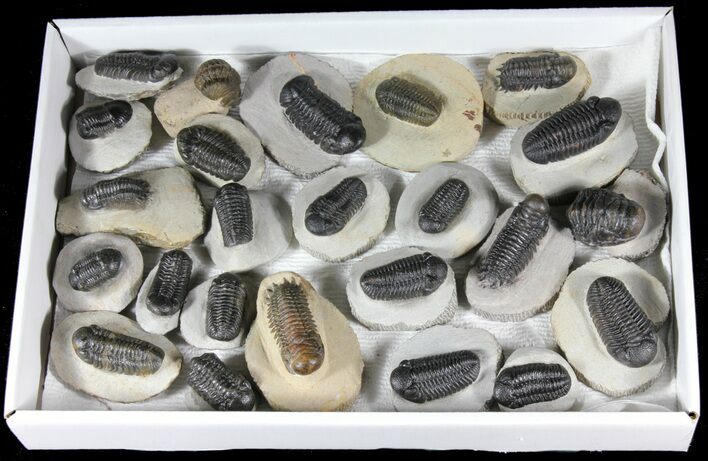 Typically we just sell retail but over the next week or so we will be making available a number of wholesale lots of inexpensive material for purchase. Please note that these wholesale lots are currently on a pallet being shipped back to our distribution warehouse to shipping maybe delayed for about a week after purchase.

This is a lot of 24, authentic trilobite fossils from Morocco. There are 4 different species represented in this flat ranging from 1.6" to2.8" long from several different Lower-Middle Devonian localities in Morocco.

The preparation on the trilobites is pretty good for being inexpensive examples. They show a lot of surface detail including eye facets. The trilobites have been coated to help conceal small preparation defects such as dings and areas of missing shell but otherwise are not restored. This coating could easily be removed by the buyer, it would probably just wash off. These are NOT the molded, fake trilobites often sold at these inexpensive prices.

At $360 each is $15 each. They could easily retail for 2-3x that.


SPECIES
Crotalocephalina, Paralejurus, Reedops
AGE
Devonian

SIZE
Largest 2.8", Smallest 1.6"