Wonderfully Preserved Greenops - Arkona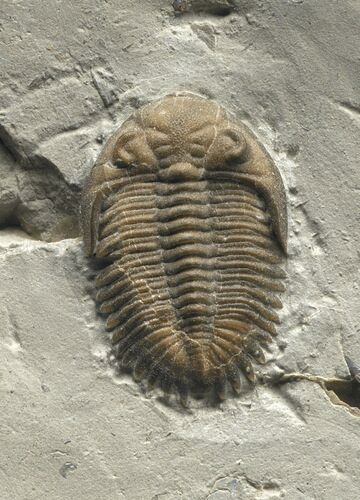 Trilobites of the subfamily Asteropyginae have recently undergone extensive revision, with several trilobites that used to be called Greenops, now classified in the recently-erected genera Bellacartwrightia or Kennacryphaeus. Most Greenops trilobites from this formation are found as disarticulated specimens, but this specimen is complete and avereage size at about about an 3/4 of an inch in length. This trilobite has clearly defined eye facets and tiny pustules on all parts of the exoskeleton. The exoskeleton is 100% natural and displays nicely with a beautiful bronze hue with dark brown touches on the pygidial spines. It sits in the middle of a partially sculpted, irregular matrix that measures roughly 4x7" in length.
AGE
Middle Devonian

LOCATION
Arkona, Ontario, Canada
FORMATION
Widder Formation
SIZE
3/4" long, matrix 4x7"