23" Dark Purple, Amethyst Geode Table - Includes Glass Table Top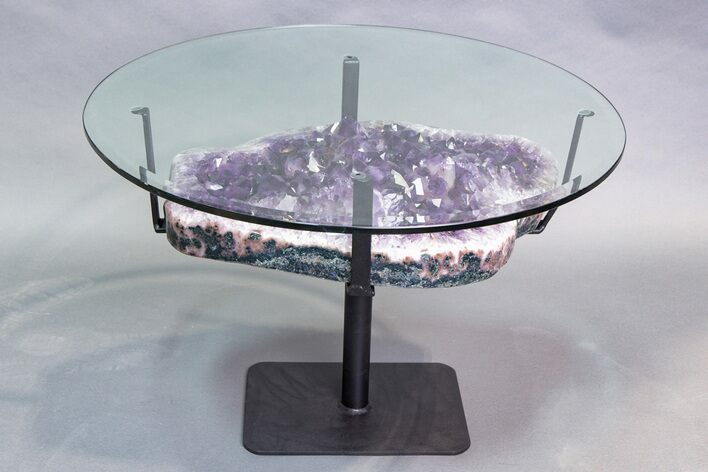 Due to the size and weight of this piece it will be shipped on a pallet or in a crate via freight. Our website can't automatically calculate freight shipping costs so these costs will be calculated and billed after purchase. Please contact us prior to purchase if you need a shipping quote.
This is a jaw-dropping amethyst geode that sits snugly within a custom metal base to create a breathtaking indoor table. It is accompanied by a large round of beveled glass that measures 30" in diameter.
This high quality geode was collected in Brazil and bears breathtaking, sharp, deep-purple amethyst crystals. Four scalenohedral calcite crystals can be found perched atop some of the amethyst, and the "rind" of the geode has been polished to a glossy-finish. Just imagine sitting next to this functional masterpiece and visually exploring the naturally-formed beauty produced by our planet.
Measurements:
Geode dimensions - 23 x 16.5 x 5.5"
Table height - 20.2" tall
Glass diameter - 30" wide
Weight including glass, stand, and geode - 140.5 lbs
The table is accompanied by rubber rounds to place between the metal arms and glass round.
Amethyst is a purple variety of quartz (SiO2) and owes its violet color to natural irradiation, iron impurities, and the presence of trace elements, which result in complex crystal lattice substitutions. It's considered a semi-precious gemstone, and just two centuries ago was considered to have a value on par with diamonds, sapphires and rubies.
Much of the world's
amethyst
comes from extensive deposits in Southern Brazil that have been heavily mined for about a century. The amethyst occurs in large cavities or geodes within volcanic rocks and the coloration and crystal size can vary greatly.
SPECIES
Quartz var. Amethyst & Calcite
SIZE
Amethyst Geode: 23 x 16.5 x 5.5", Table Height: 20.2"