4" Sphalerite "Flowers" on Dolomite Association - Missouri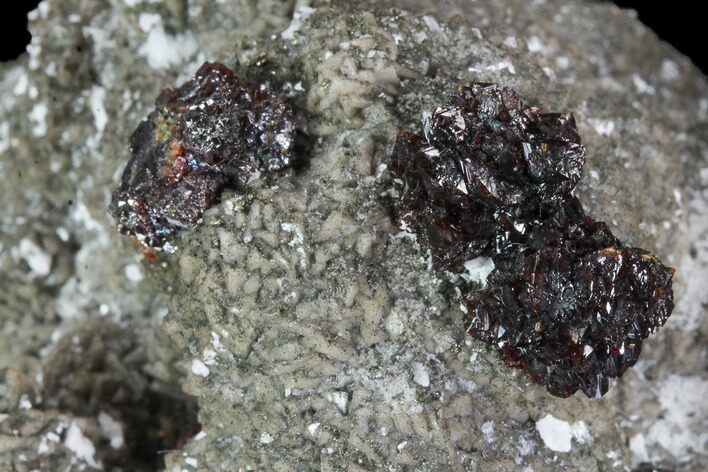 This beautiful specimen contains an association of a deep red sphalerite "flower" crystal clusters that formed from a dolomite crystal encrusted matrix. It comes from the Washington County Aggregates Quarry in the Potosi Barite District of Missouri.
Sphalerite is a part of the sulfides group and typically exhibits a grey/black appearance due to high concentrations of impurities. When sphalerite is in it's purest state, the chemical composition is ZnS, and can display a gemmy transparent light tan/yellow color. This is one of the few minerals that can form crystals ranging anywhere between gemmy and transparent to opaque and metallic-like. Opaque or cloudy sphalerite tends to be most abundant, due to the ease of iron replacing zinc in the process of formation.
Dolomite is an anhydrous carbonate mineral composed of calcium magnesium carbonate—CaMg(CO3)2.

The mineral dolomite crystallizes in the trigonal-rhombohedral system. It forms white, tan, gray, or pink crystals. Dolomite is a double carbonate, having an alternating structural arrangement of calcium and magnesium ions. It does not rapidly dissolve in dilute hydrochloric acid as calcite does. Crystal twinning is common.

The mineral dolomite was first described by Carl Linnaeus in 1768 and In 1791, it was described as a rock by the French naturalist and geologist Déodat Gratet de Dolomieu who first recognized the material in buildings of the old city of Rome, and later as samples collected in the mountains known as the Dolomite Alps of northern Italy.
SPECIES
Sphalerite & Dolomite
LOCATION
Washington County Aggregates Quarry, Potosi Barite District, Washington County, Missouri