66.5" Purple Amethyst Wings on Metal Stand - Large Points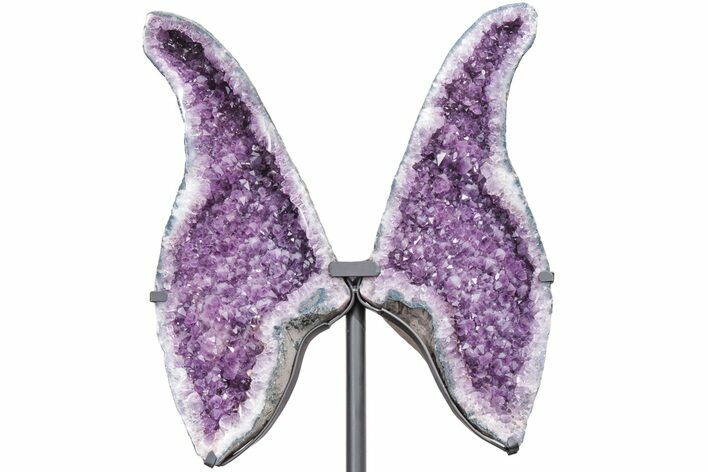 Due to the size and weight of this piece it will be shipped on a pallet or in a crate via freight. Our website can't automatically calculate freight shipping costs so these costs will be calculated and billed after purchase. Please contact us prior to purchase if you need a shipping quote.
This is an eye-catching amethyst geode pair that was collected from Minas Gerais, Brazil. The geode has been cut in half and mounted as "wings" to create a display reminiscent of a butterfly. It consists of large purple amethyst crystals, with a nice agate banding around the outer rim of the cluster. A plethora of golden goethite crystals can be found as both inclusions and as a peppering across the natural facets. The edge of each wing has been flawlessly polished to a glossy-finish and contains natural rock along the back of the geode.
This incredible specimen would make for a head-turning display piece that is sure to draw a crowd.
Measurements:
Average Wing Dimensions - 43 x 18 x 5.4"
Overall Height - 66.5"
Overall Width - 38"
Amethyst is a purple variety of quartz (SiO2) and owes its violet color to natural irradiation, iron impurities, and the presence of trace elements, which result in complex crystal lattice substitutions. It's considered a semi-precious gemstone, and just two centuries ago was considered to have a value on par with diamonds, sapphires and rubies.
Much of the world's
amethyst
comes from extensive deposits in Southern Brazil that have been heavily mined for about a century. The amethyst occurs in large cavities or geodes within volcanic rocks and the coloration and crystal size can vary greatly.
SPECIES
Quartz var. Amethyst & Goethite
LOCATION
Minas Gerais, Brazil
SIZE
Height on Stand: 66.5". Average Wing Dimensions: 43 x 18 x 5.4"