California State Fossil - Saber-Tooth Tiger (Smilodon californicus)
In 1973 the California state legislature designated the saber-tooth tiger (Smilodon californicus) as the california state fossil. In addition the duck-billed dinosaur, Augustynolophus morrisi was designated as the California state dinosaur in 2017.
The naming of a California state fossil in 1973 actually caused some controversy as two different fossils were proposed and championed by rival politicians. One side argued for
trilobites
whose remains are some of the oldest fossils in the state while the other side lobbied from the saber-tooth tiger whose fossils have been found at the La Brea tar pits in Los Angeles. Ultimately they decided to go with the cat and it's big, scary, dagger-like teeth.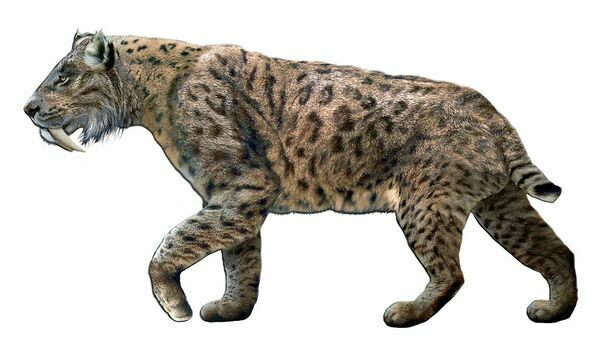 An artists reconstruction of Smilodon By
Dantheman9758
Creative Commons License
Commonly known as Saber-tooth Tigers or Saber-tooth cats, Smilodons are not actually related to either modern day cats or tigers. These ferocious predators lived during the Pleistocene from about 2.5 million to 11,700 years ago. They weighed up to 600 lbs and had huge, saber-shaped canines up to 7 inches long that would have extended past their lower jaw. They would have preyed upon ice-aged megafauna and they went extinct at the same time as their prey.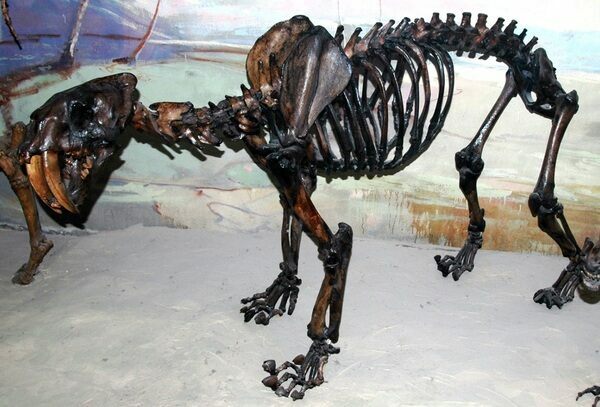 Skeleton of Smilodon (Smilodon californicus) from the La Brea Tar Pits in Los Angeles. Photo by James St. John Creative Commons License
Over 160,000 fossil bones of Smilodon have been recovered from the
La Brea Tar Pits
in Las Angeles, California. These tar pits trapped tens of thousands of animals, many of which would have been the prey of Smilodon. It's believed that Smilodons got themselves trapped while trying to get an easy meal. In fact nearly 90% of the excavated bones in the tar pits belong to predators, leading them them being referred to as "
predator traps
".
Note: The name Smilodon californicus and Smilodon fatalis are synonymous. Smilodon fatalis is more popularly used though Smilodon californicus is technically the correct name.
RELATED ARTICLES