This Specimen has been sold.
1.15" Halisaurus Tooth (Mosasaur)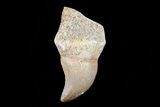 This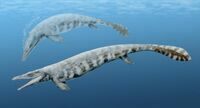 Artists reconstruction of a Halisaurus. By
Nobu Tamura
is a nice, 1.15" tooth of the Mosasaur, Halisaurus arambourgi. It comes from the phosphate deposits near Khouribga, Morocco.
Halisaurus ("Ocean Lizard") was in the Mosasaur family and were small compared to other Mosasaurs reaching lengths of 3-4 meters. There are one of the more uncommon types of Mosasaurs present in the phosphate beds, with less that 5% of the teeth representing Halisaurus.
SPECIES
Halisaurus arambourgi
LOCATION
Khouribga, Morocco
FORMATION
Phosphate Deposits