13" Partial Giant Radiodont (Aegirocassis), Xiphosurida & Trilobite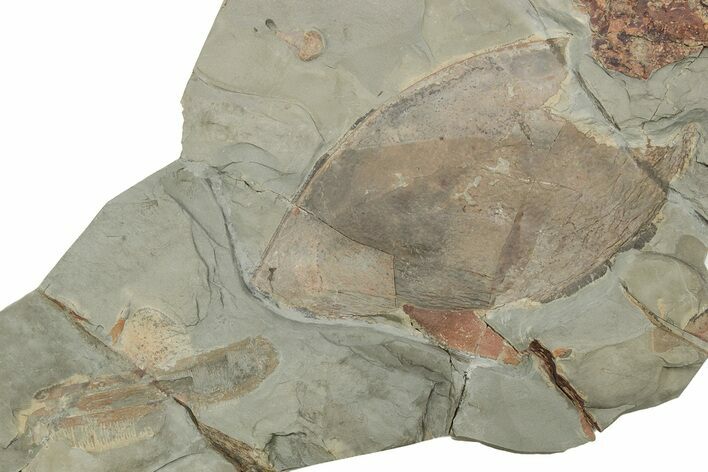 This is a partial giant Radiodont arthropod (Aegirocassis benmoulai) associated with a primitive horseshoe crab fossil and Asaphid trilobite. It comes from the Lower Ordovician Fezouata Formation of Morocco. The partial radiodont, which measures 13" long, includes its filter feeding appendage and most of its head. Just above the head is a well preserved Xiphosurid arthropod, a type of very primitive horseshoe crab. There is also a ventrally-preserved 6" long Asaphellus trilobite present on the shale.
Aegirocassis could reach lengths of up to 2m long making it the largest known animal at the time. It likely evolved from the early predatory radiodonts of the Cambrian.
Giant sea creature hints at early arthropod evolution
SPECIES
Aegirocassis benmoulai, Xiphosurida, & Asaphellus
LOCATION
Zagora Area, Morocco
FORMATION
Fezouata Formation
SIZE
Rock 22 x 13", 13" Partial Radiodont, 6" Trilobite